NurAiD II™ MLC 901 (NeuroAid) Is a proven and safe nutritional supplement made from a mixture of natural substances that helps people regain independence in everyday life through their adaptive effect. For more information about the product visit www.neuroaid.com and www.nuraid.com
Proxi Pharma is exclusive sales, marketing representative and exclusive distributor for Macedonian market of NurAid II MLC 901, which is Moleac product. www.moleac.com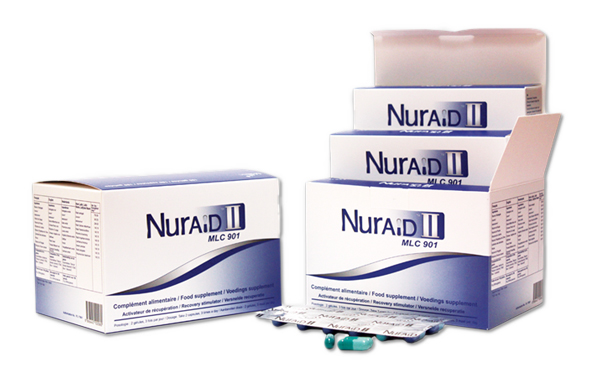 Dosage of NurAiD II
The patient takes 2 capsules, 3 (three) times a day for the duration of 3 months. In case of positive effects, it is advised to consider prolonging the dosage period.
1 package contains 180 capsules, which equal a 1-month dosage.
NurAiD II™ is ingested perorally. Capsules must be ingested whole. In patients with swallowing difficulties, the capsules can be opened and the powder can be added into food or drink or can also be introduced into the system via a feeding tube.
Composition of NurAiD II
9 plant components:
Salviae miltiorrhizae,
Paeoniae lactiflora,
Ligusticum chuanxiong,
Angelicae sinensis,
Carthamus tinctorius,
Prunus persica ,
Polygala tenuifolia
Acorus tatarinowii
Astragalus membranaceus
Safety
NurAiD II™ MLC901 (NeuroAid) is an additional nutritional supplement safe and well-received. No severe side effects connected with NurAiD II™ were reported. Some occasional, minor or temporary cases of gastrointestinal symptoms were reported. NurAiD II™ may cause throat dryness and increased thirst.
In patients treated using peroral anticoagulents a regular INR (international normalized ratio) check-up is recommended, as well as by any other changes in their medication regime.
Store in a dry and cool place.
Not suitable for children, pregnant and nursing women.
The diet supplement does not serve as a substitute for a varied diet and a healthy lifestyle. Do not exceed this dosage.
Keep the product out of the reach of children. Suitable for vegetarians.